SAN-AIRE is the designer and manufacturer of PowerDry™, the energy-efficient and cost effective solution to dishware and tray drying. SAN-AIRE offers foodservice operations the ideal choice in non-heated dishware dryers.
SAN-AIRE has been serving the foodservice community since 1993. The company started with an observation. Bruce Barker and Hatcher James were touring foodservice kitchen facilities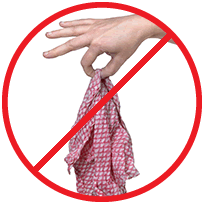 SAN-AIRE started with an observation — dishes and trays being dried by hand with dirty, wet dishrags. and they observed that many dishes and trays were being dried by hand with dirty, wet dishrags. They saw an opportunity and went to work on engineering a low cost dishware drying solution for foodservice operations.
Two years later, the FDA introduced the Food Code stating that dishes and trays could not be hand dried, but must be air dried. The SAN-AIRE PowerDry proved to be an ideal choice to solve that drying challenge for all types of foodservice

SAN-AIRE PowerDry preceded by two years the FDA Food Code regarding air drying of dishes and trays. ​operations — schools, colleges, restaurants, B&I operations, correctional institutions, hotels and casinos. Today, hundreds of foodservice companies rely on the PowerDry in their operations.
Always looking for new ways to improve dishroom performance with practical, cost-effective solutions, SAN-AIRE also developed the RapiDrain™, a drainer designed to lift tray and dish racks off the dish table surface so air can pass under and around the ware being dried. This accessory to the PowerDry was designed after a visit to the Texas A&M University. They had a dish table that pooled water, forcing the dishware racks to be pushed through water as they left the dishmachine, creating an unsanitary situation and preventing dishes from drying properly. SAN-AIRE's efficient RapiDrain drainer solves this problem.
SAN-AIRE is based in Ft. Worth, TX. All SAN-AIRE equipment is manufactured in the United States.